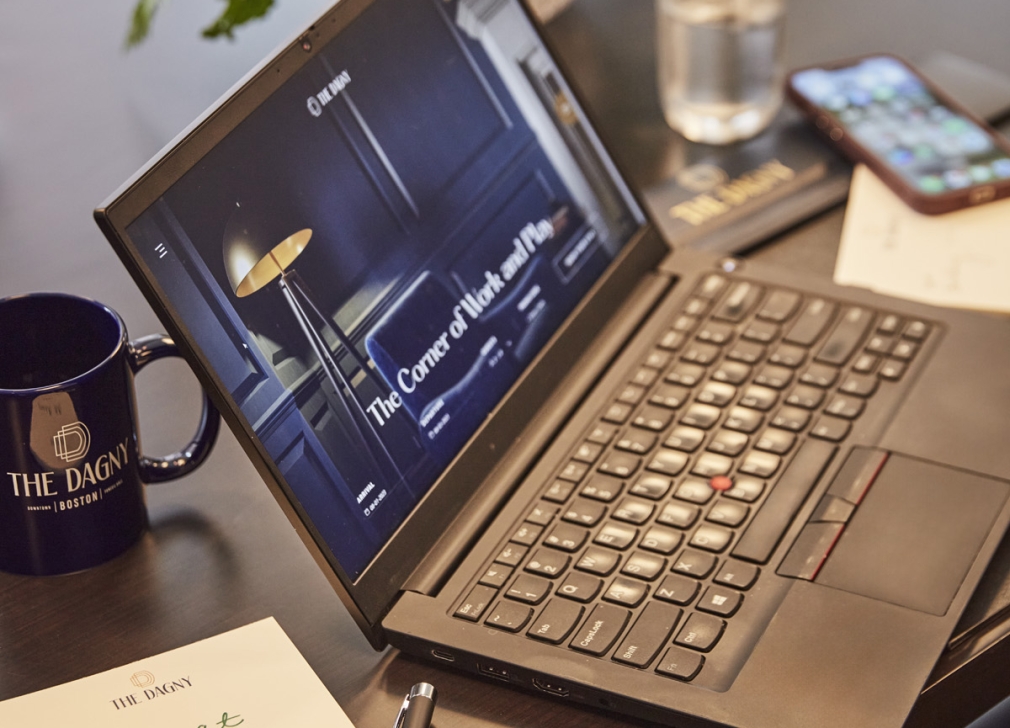 Best Things to Do in Boston: A Guide for Every Type of Traveler
Whether you're arriving with a briefcase in hand, a family in tow, or something spectacular in mind, Boston is the place to be, and The Dagny is the place to stay. With positively elevated hospitality and dashes of delight infused into every detail of your time here, you'll find a most memorable experience at our Boston boutique hotel. Explore places to see and things to do for every type of traveler, and start planning your trip.
Work-to-Play Professionals
Perfectly positioned at the corner of work and play, The Dagny is an inviting haven for the modern business traveler. Boasting a walk-on-over proximity to the bustling Financial District, you'll have the beating heart of Boston's business world right at your doorstep.
Many of our guest rooms are thoughtfully crafted for corporate travelers, offering a whimsical retreat where inspiration and productivity come with ease. With ample space at your desk and stunning views outside, you'll have room to let your ideas flow and tackle your tasks. Our newly redesigned lobby space also offers an inviting workspace setting with plenty of comfortable seating and floor-to-ceiling windows. And when the afternoon fades to after-hours, the best of Boston beckons.
Whether you have a few hours between meetings or you're extending your stay to explore, you'll find famous attractions within strolling distance, like Faneuil Hall Marketplace and Quincy Market, Boston Common, The Rose Kennedy Greenway, and plenty of historic taverns and Irish pubs lining the streets. When it comes to cuisine, you won't even need to leave the hotel. The Dagny offers two on-property venues for client dinners, post-meeting pints, or working lunches: Fin Point Oyster Bar & Grille and Tradesman Coffee Shop & Lounge.

History Enthusiasts
Boston is a time traveler's playground. Like a portal to the past, history lovers will delight in the countless ways our city honors its heritage. The Freedom Trail makes a memorable first stop. Rent one of The Dagny's complimentary bicycles and cruise this 2.5-mile red-bricked pathway, leading to 16 remarkable historical sites, including Massachusetts State House, Paul Revere's House, Old North Church, and the USS Constitution Museum. 
Our city wears its historical heart on its sleeve, so even a casual stroll has the effect of whisking visitors away to another era. Explore the North End, Boston's Little Italy, to savor handmade cannoli and Italian heritage. Step back in time at the historic waterfront district and visit the Boston Tea Party Ships & Museum. Wander through Beacon Hill's gas lamp-lit streets, a living relic of Federal-style row houses. 
Beacon Hill is also home to the Black Heritage Trail, a 1.6-mile route consisting of ten historical sites. This trail highlights the homes and community buildings of a flourishing Black community that emerged during the nation's earliest years, including the 54th Regiment Memorial, the Abiel Smith School, and the African Meeting House.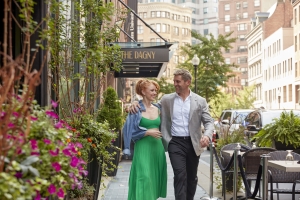 Coastal Couples Getaway
Whether you're celebrating a special occasion or whisking someone away for a romantic escape, Boston makes a beautiful backdrop for a trip for two. Stroll hand-in-hand along cobblestone streets and revel in the romance of Boston's green spaces. The Public Garden and the Esplanade along the Charles River offer serene settings for walks, picnics, and swan boat rides.
Uncover Boston's hidden gems together. Explore one of the country's oldest and most breathtaking independent libraries at The Boston Athenæum, experience traditional high tea at the Boston Public Library, or, when the weather is warm, take a 20-minute ferry to Spectacle Island for sunbathing or trail walking.
Sometimes, the best thing to do is nothing at all. Indulge in a night spent exclusively at The Dagny and book an extra special stay in one of our Premier King Rooms — located on our highest floors with views overlooking Downtown Boston or the Boston Harbor. Then, get all dressed up to go downstairs. Sip a casual cocktail or two from the comfort of our unique library space's cozy couches, or sit down for a candlelit dinner for two at Fin Point.
Cultural Explorers
Fine art, fine wine — you could say you have a penchant for life's finer pleasures. Luckily, Boston is a city steeped in culture, boasting impeccable taste when it comes to all things artistic and epicurean.
Explore Boston's thriving art scene, from modern works at the Institute of Contemporary Art to classical masterpieces at the Museum of Fine Arts. Venture through the South End and admire the colorful murals that grace the neighborhood's walls. Immerse yourself in a melody at Boston's Symphony Hall, an iconic venue home to the renowned Boston Symphony Orchestra. Or, catch a show in a historical venue like the Citizens Bank Opera House or Emerson Colonial Theatre in the Theatre District.
Boston's food scene is a delicious fusion of tradition and innovation. Speakeasies like OFFSUIT and Drink will dazzle the mixology-minded, while elevated indulgences like O Ya's ever-changing omakase experience or Menton's "chef's whim" tasting menu will delight the most discerning palates.
Our city also plays host to a year-round calendar of cultural events and annual festivals. In October, the Head of Charles Regatta, the Boston Book Festival, and a long list of Oktoberfest festivities will bring the city to life with fall celebrations.


Family Voyagers
Bringing little ones along? The Dagny is your gateway to a memorable family getaway brimming with exploration, excitement, and the joy of discovery. Our Double Queen guest rooms are made for families of four, with two plush beds and spacious layouts. And if your family includes a four-legged member, we have plenty of space for pups, too.
Home runs, hot dogs, and Sweet Caroline — few childhood memories are more cherished than a trip to Fenway Park. Experience the heart and soul of Boston's sports culture, where generations of families have gathered to cheer on the Boston Red Sox. Or, experience the electric atmosphere of TD Garden, home of the Boston Bruins and the Boston Celtics. This iconic arena is also where you'll find The Sports Museum, offering a half-mile of exhibits and guided tours celebrating the history of Boston sports.
The Boston Children's Museum is a hub of interactive exhibits and activities designed to captivate the imaginations of kids of all ages. For curious minds, the Museum of Science is a must-visit, with interactive displays and live demonstrations. Find yourself face-to-face with penguins, sea turtles, and sharks at the New England Aquarium.



Stay at The Dagny
Whatever your visit's purpose, we'll make sure your stay here is perfect. Explore our Art Deco-infused guest rooms and make the most of your experience with one of our special offers or packages.
Other Blogs You May Like
Explore More
Planning the Perfect Work & Play Boston Getaway

A New Day: The Dagny Hotel Opens in Boston
Share Your Story
#thedagnyboston